Raleigh Health Insurance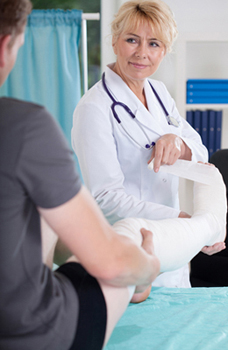 A healthy lifestyle can do a lot to keep you out of a doctor's office or hospital emergency room. But when something unexpected happens and you don't have health insurance, what's your strategy? Do you need one? Consider the facts.
U.S. Facts to Consider
Each year about 3 million people are injured in motor vehicle crashes.
In a recent year, there were 31 million visits to emergency rooms for accidental injuries.
Yearly, there are more than 20 million visits to doctors' offices for infectious diseases.
Accidents and infectious diseases can affect anyone. Given the facts, many people understand the importance of having some form of health insurance. Preventive care with yearly physical exams and tests can help you avoid more costly care in the future. But it may not be that simple.
Health Insurance – Costs, Concerns, and Solutions
A limited budget or the size of your family can make you uneasy about the cost of health insurance. But some coverage is better than having no coverage at all. You may be able to pay out of pocket for an annual exam from your doctor, but there are situations that you simply cannot plan for. An accident or emergency can quickly run up medical bills. Just an emergency room visit alone can cost thousands of dollars. It can take years to pay off those bills if you don't have insurance.
Finding the health insurance plan that's right for you and your family can be challenging. Whether you're purchasing medical insurance on your own or through the Affordable Care Act, we can help. We'll give you simple, clear explanations of your options and the pros and cons for each of them.
The health insurance plan you choose can depend on your budget, where you live in relation to medical facilities, or your preference for certain doctors or hospitals. We help you compare your options and choose a plan that meets your needs.
Medical Insurance Carriers for Our Raleigh-Durham Clients
We provide health insurance through the following carriers:
Aetna®
BlueCross BlueShield®
UnitedHealthcare®
We can help you get answers and get health insurance. We extend our services to all North Carolina residents, so whether you're in the Raleigh-Durham area or elsewhere in the state, we are qualified to assist you. Contact us to discuss your options and to receive free health insurance quotes. We'll guide you in choosing the coverage you need for preventive or emergency medical care.