Raleigh, NC Whole Life Insurance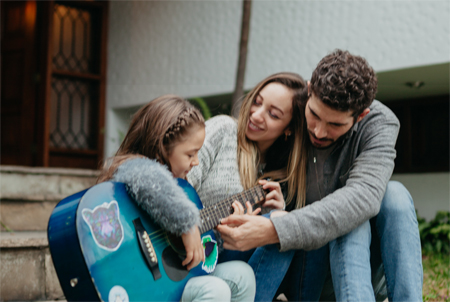 In North Carolina, whole life insurance from Hunt Insurance of Raleigh includes components for cash accumulation dividends. Whole life insurance offers features that you can choose to fit your needs and your budget for premium payments.
What Is Whole Life Insurance?
Whole life insurance is a type of permanent life insurance. It provides coverage throughout your entire—or whole—life. Whole life policies have standard features, but there are options you can select to tailor your policy to your needs.
Features of Whole Life Policies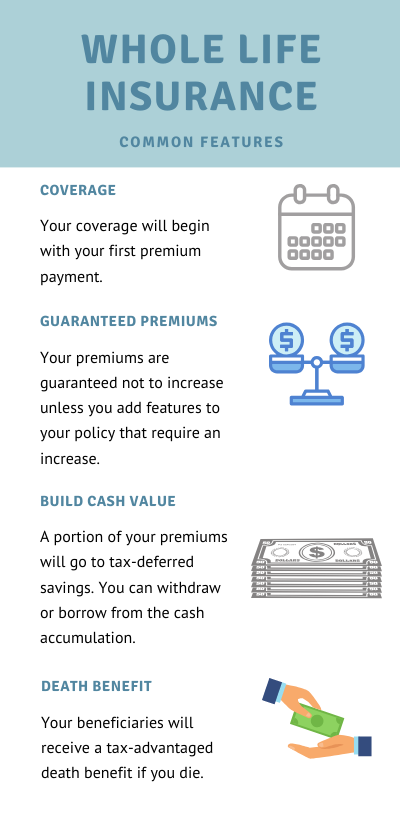 All whole life policies have these guarantees:
Coverage – Coverage begins with the first premium.
Premiums – Whole life insurance policies have level premiums that are guaranteed not to increase. You can choose to add features to your policy that will affect the cost.
Build cash value – Permanent life insurance, including whole life, can build significant cash value. As you pay premiums, a certain percentage goes to tax-deferred savings. Your policy will accumulate cash value that you can access through loans or withdrawals. If you use cash value, it will reduce the payout for your beneficiaries.
Death benefit – If you die, your beneficiaries will receive a payout based on the value of your whole life insurance policy. Death benefits are usually tax free.
Some policyholders access accumulated cash for these reasons:
Pay for college education
Cover unexpected expenses for an emergency
Finance major purchases
Supplement your retirement income
Pay for the policy
Your loan or withdrawal from the cash fund may be taxed at the time you access the money. A ten percent federal tax penalty may apply if you access funds before age 59½. We'll be happy to discuss any taxes or penalties you may incur based on the type of whole life insurance policy you choose.
Dividends
Whole life insurance offers lifelong value by paying annual dividends on eligible policies. Some of your premium payments are returned to you if the insurance company overestimated its annual costs in these three areas:
How can you use your dividends?
Take as cash
Pay for future premiums
Purchase additional paid-up coverage, which increases the cash value of your policy and increases opportunities to earn future dividends
How Do Whole Life Policies Differ?
Areas where whole life insurance policies can differ:
Duration of premium payments
Rate of cash value growth
Dividend earning potential
Riders
Duration of premium payments
Some whole life insurance policies stretch premium payments over your lifetime. You can choose to pay higher premiums over a ten- or 20-year period with the satisfaction of knowing that your premiums are paid in full at the end of the period. And you'll have life insurance coverage for the rest of your life.
Rate of cash value growth or dividend earnings potential
Accelerated cash value growth – You can elect to pay higher premiums that speed up the cash value growth rate.
Dividend earning potential – If you plan to access a portion of your policy's value, you can pay higher premiums and increase the potential to earn higher dividends—which you can put back into the value of your policy.
Riders
Riders are add-on features to a policy. Riders may increase your whole life insurance premiums, or you might have to pay a fee if you use them.
Examples of riders that you can add to your insurance policy:
Regardless of your health status, you have a guaranteed right to purchase more coverage in the future.
If you become disabled, premium payments are waived.
You can access a portion of your death benefit if you become terminally ill or have a chronic illness.
How Much Does Whole Life Insurance Cost in North Carolina?
The cost of whole life insurance in North Carolina—and any state—depends on several factors. Your premiums will be determined by:
The amount of coverage you want
The type of policy you choose
Duration of your premium payments
Your age
Your health history
Your lifestyle
Riders, or add-ons, to your policy
How Does Whole Life Insurance Compare with Term Life Insurance?
Some of the ways that whole life insurance differs from term life insurance include:
Whole life insurance provides coverage for your entire life. Term life insurance provides coverage for a limited period, often in increments of five years.
Whole life insurance is five to fifteen times more expensive than term life insurance.
Term life insurance does not build cash value.
A Guide to Selecting Whole Life Insurance
The details matter if you're selecting whole life insurance. Before choosing a policy, ensure your insurance agent answers all your questions in a way that you understand. In North Carolina, Hunt Insurance of Raleigh will guide you through the process. Call us with your questions or complete our contact form. We'll address your concerns and give you a hassle-free quote.