Disability income insurance replaces a percentage of your income if you're ill or injured and unable to work. Whether you live alone or have family members that depend on you, having a portion of your income replaced can give you peace of mind and ease the stress of being ill and unable to work. Although it sounds like a good idea, is it worth it? And how much income replacement will you receive?
How Much Will Disability Income Insurance Pay?
Disability income insurance generally pays 45% -65% of your gross income if you have short-term disability coverage. Long-term disability insurance pays typically 40% – 50% of your gross income. The payments are tax free. As your monthly benefit increases, so will your premiums.
Are There Age Limits for Applying?
You must be at least 18 years old but not more than 60 years old to apply for disability income insurance.
How Much Are Disability Income Premiums?
Premiums are typically 1.5% and 3% of your gross income. Your gender, age, health status, and lifestyle affect your premiums. If you smoke, your premiums will be higher.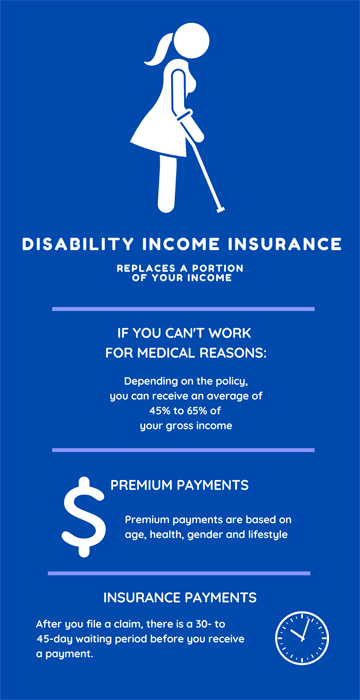 How Long Does Coverage Last?
Disability income coverage length depends on whether you're receiving short-term or long-term disability insurance. You might be able to purchase a rider—or add-on—to extend your coverage period.
Short-term disability insurance – Although it depends on the policy, coverage usually lasts three to six months.
Long-term disability insurance – Most insurance companies have plans that have a maximum benefit period of two to ten years.
When Does Coverage Begin?
There is a waiting period—usually 30 days from the date your coverage begins—before you can receive benefit payments. If you become ill or injured and unable to work, there is usually a 30- to 45-day waiting period before the insurance company processes your first benefit payment. Payments are generally issued monthly.
Unless your policy states otherwise, disability income insurance payments don't coordinate with Social Security Disability payments. You'll receive separate checks.
How Much Disability Income Insurance Do You Need?
If you decide to purchase disability income insurance, purchase enough to care for your needs—food, shelter, and clothing. Your list of monthly expenses might include:
Cleaning supplies
Food
Health care
Internet
Mobile phone bill
Mortgage or rent payment
Necessary clothing
Needs for dependents living in your household
Personal care products
Transportation – car payment, gas, public transportation fees
Utilities
If you're interested in partial income replacement if you're unable to work for medical reasons, Hunt Insurance of Raleigh, NC, can help. We'll review your options for disability income insurance and guide you in deciding how much disability income insurance you need.